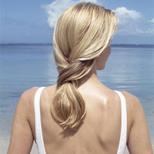 With the beautiful weather that we are experiencing now in Dubai, some of you will no doubt be taking to days by the pool. Whilst you cream up and protect your delicate skin, remember that your scalp is skin also.
Sunburn on the scalp is very common, yet people may not connect the dots if and when their scalp gets a bit sensitive after a day or few in the sun. While we spend hours each summer slathering our body with appropriate SPFs, and meticulously checking our skin for signs of UV damage, our sensitive scalp is so often neglected – and it certainly shouldn't be. After all, our scalp is really just skin, and is therefore prone to the same traumas. This can range from large, unsightly flakes to, more seriously, second degree burns and skin cancer.
Symptoms of Sunburn on the Scalp
Symptoms of sunburn on the scalp can vary depending on the severity of it. You may experience slight redness and soreness or, in the case of deeper burns, develop blisters. In milder cases, the scalp will usually be quite sensitive to the touch and within a few days large flakes will start to appear, shed, and show up attached to your hair shafts. This can lead to itching and irritation, and can be managed with  Tarinol or a moisturizing shampoo. Severe cases, however, need to be addressed by a doctor as they can lead to secondary bacterial infection. Signs of deeper burns are blisters, bleeding, crusting, extreme discomfort and marked dark redness and inflammation that do not go away within a few days.
Prevention of Sunburn on the Scalp
The most reliable method of protecting your scalp from sunburn is to wear a hat. However, if this is inconvenient, you can either apply your own sunblock to your parting (and any other exposed areas of scalp), or use a waterproof UV protective cream. We now have Malibu sun products available in Dubai, which  protects hair from the damaging effects of the sun, and salt and chlorinated water, while giving your hair an intensive moisturizing treatment at the same time. However, if you have already burnt your scalp, wear a head covering to prevent worsening of the burn.