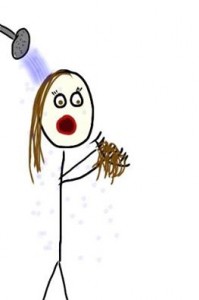 Hair Myth: WASHING YOUR HAIR TOO MUCH WILL MAKE IT FALL OUT.
Not true. Washing your hair is singularly the best thing you can do for it. Your hair and scalp, just like the rest of your body, benefits from the removal of dirt, oil and dead skin cells.
When you wash your hair, of course, you notice more hair falling out, but these are only hairs which are ready to come out anyway. Not washing your hair will not prevent this; indeed, leaving your hair unwashed is likely to result in a greater hair loss in time.
The science bit:
The only hair that will fall out when you wash it is hair that is ready to leave the follicle either because it has come to the end of its genetically determined growing phase or because of ill health, stress, poor diet or some other causative factor that is interfering with the life cycle of the hair. It is totally counterproductive not to wash your hair for fear of it falling out. Not only will hair that is ready to fall out, fall out anyway, the hair loss may be greater by not washing your hair. This is because when the hair/scalp is greasy follicles become saturated with sebum (the skin's natural oil) which contains substances that can cause the hair to loosen in the follicles and fall out.