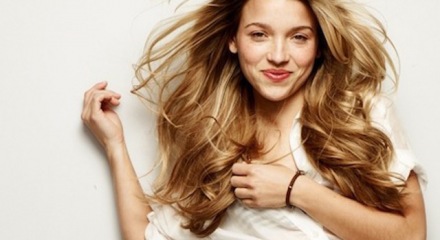 Acute telogen effluvium has an abrupt onset. The active shedding lasts 1 to 4 months and can lead to thinning of the hair over the entire scalp. The bitemporal areas may be most obviously thinned. Once the daily shedding returns to normal, it may take several months for the scalp hair to regain its normal density. The patient's hair goes back to normal within 1 year of onset of TE in 95% of people. A specific trigger can be found in approximately 75% of patients with acute TE.
Chronic TE is defined as increased shedding lasting at least 6 months, but usually greater than one year. Chronic TE can last for many years with fluctuating severity. Its onset may be abrupt or gradual. A definite trigger is often not identified in patients with chronic TE. Chronic TE usually affects middle-aged women, many of whom give a history of extremely thick hair prior to the onset of their problem.
Women with chronic TE may have normal-appearing hair (albeit thinner than the patient's normal hair) or may show shorter frontal hairs or bitemporal thinning. Women with chronic TE often state that they have lost half or one third of their hair. A woman with chronic TE may complain that she is unable to grow her hair as long as she could in the past. Unlike in FPHL, the occipital and crown part widths are approximately the same in patients with both acute and chronic TE.
A careful history of possible triggers is important in patients presenting with TE. Iron and thyroid levels are usually checked and supplements given if deficiency is discovered. In patients with acute TE, discuss the condition as a synchronized shedding. Reassure the patient that there is a 95% chance of complete recovery. It is important to stress that no one goes bald from TE and that every shed hair is replaced.
No specific treatment is required other than reassurance. In the case of identification of a medication as a possible trigger, it is sometimes possible for the patient to continue the medication and still have resolution of her shedding. Alternatively, a medication change, if possible, can be discussed with the patient's primary care physician. Medications that have been implicated in TE include coumadin, lipid lowering statins isotretinoin, beta blockers, and ACE inhibitors. Discontinuation of exogenous estrogens is often implicated in TE. The patient may want to restart her estrogen therapy, but this is not necessary.
Patients with chronic TE present a more difficult situation. It is difficult to tell a patient that there may be no identifiable cause for her shedding and that there is no specific treatment. As with acute TE patients, check for iron and thyroid deficiency and correct this if identified. Counsel the patient that her increased shedding is due to a shortening of the growth phase of the hair cycle (anagen). It is not known why this occurs. Emphasize that her follicles continue to grow and cycle, however the follicles are simply cycling too fast. Stress that every shed hair is replaced and she will not go bald.
The reason that her hair feels (and is) thinner overall is that she has increased daily shedding and even though each shed hair is replaced, it takes months for a new hair to grow long enough to contribute to the overall hair thickness. Therefore, if double the normal number of hairs is shed daily, the overall hair thickness will be cut in half. Patients with chronic TE require a lot of reassurance. Over time, patients realized that they really haven't gone bald despite continued increased shedding and this decreases the anxiety they feel about their condition. I have tried treating chronic TE patients with minoxidil because minoxidil has been shown to keep follicles in anagen longer. However, it is usually impractical to use in patients with chronic TE because they have enough hair density to make it difficult to apply the solution to the scalp (the hair becomes matted and greasy) and because minoxidil temporarily increases hair shedding in approximately 10% of users. There have been no studies examining the treatment of chronic TE with minoxidil or any other therapy.
Telogen effluvium (TE) is a condition characterized by increased daily hair shedding. Normally, up to 100 telogen (club) hairs are shed daily. This is due to the fact that up to 10% of a person's 100,000 scalp follicles are in telogen (the resting phase) at any given time (10% of 100,000 hair follicles is 10,000 hair follicles; with telogen lasting an average of 100 days this leads to an average shedding of 100 hairs/day). Most people actually shed 60 to 80 hairs a day because 6 to 8 % of their follicles are in telogen. TE is a perturbation of the hair cycle causing shedding of at least 120 hairs a day.
TE is caused by a sudden shift of growing anagen hairs into the catagen and subsequent telogen phases, culminating in shedding of these hairs. The shedding usually begins 2 to 5 months after the trigger because the average duration of catagen is 1 month and telogen usually lasts 3 months. Possible triggering events include severe medical illness, high fever, surgery, accidents, medications, crash diets, delivering a baby, discontinuation of oral contraceptive pills, or psychological trauma. Thyroid and iron deficiency can also lead to TE.