WHAT CAUSES DRY DUBAI HAIR? Summer
'What causes dry hair? And how do I fix it?' are two of the most frequently asked questions I get in the summer. And what with increased sun exposure, jumping into chlorinated pools, and days at the beach bathing your locks in the salty seas, it's no surprise!
Cause of dry hair #1: DEHYDRATION
Your hairs' water content is what makes it stretchy, elastic and moisturized – kind of like your skin. And, similar to your skin and the rest of your body, your hair can become 'dehydrated' and dry if too much moisture is lost through evaporation. And even more so if that moisture is not replenished! The summer is full of dehydrating daemons, of which are listed below. Luckily, I have some fantastic remedies!
Cause of Dry Hair #2: SEA WATER & CHLORINE
As the sea has high salt content it is osmotic, meaning that it leaches water out of your hair. The result? A dry, parched and brittle bouffant. Chlorinated water can do the same. To remedy dryness, hydrate dry hair twice weekly with a pre-shampoo conditioning treatment. However, you can also use preventative measures to stop your hair from becoming dry in the first place. Apply a moisture cream before going in the sea (or chlorinated water) and a Daily Leave In Conditioning spray when out and about.
Cause of Dry Hair #3: UV RAYS
The sun is natural, yes. But good for your hair? Absolutely not. The sun's rays can be just as hazardous to your hair as bleach, and can actually burn it and degrade its structure. The heat from the sun can also cause excessive water evaporation, leaving your hair dry and thirsty. Factor in that with the fact that your hair may already be saturated with salt/chlorine and you have yourself a bit of a recipe for a dry hair disaster. To protect your tresses, either wear a hat or apply a protective cream as described above. Twice weekly use of an Intensive Wheat Moisturizing treatment can also do wonders.
Cause of Dry Hair #4: INFREQUENT SHAMPOOING
Contrary to popular belief, frequent shampooing does not dry your hair. It moisturises! Think about it. You wash hair with water – the primary hydra-tor of your body, skin and yes – as I explained before – your hair.  Water is absorbed into your hair when you shampoo and the correct product will help your strands retain it.
Cause of Dry Hair #5: SKIPPING CONDITIONER
Conditioner smooths your hair cuticle after shampooing, locking in moisture and adding shine. If you don't condition, your hair cuticle is likely to raise, allowing for more rapid loss of H20.
Cause of Dry Hair #6: OVER-USE OF HEATED STYLING AIDS
It's very tempting to run straighteners over your hair for hours on end when humidity strikes. Frizzy hair is an absolute nuisance. However, the heat of straighteners, and too hot hairdryers, can cause your hair to become brittle and very dry. Try to embrace the 'beach look' and let your hair dry naturally.  It has certainly been hot enough! To combat frizzies, apply a leave in conditioner containing light-weight silicones. If you are heat styling, use a heat protective product and turn off the assaulting apparatus when your hair is 'just dry'.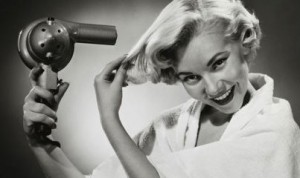 Cause of Dry Hair #7: LEMON JUICE LIGHTENING
During the summer months you may be tempted to squeeze lemon juice on your hair to give it that 'natural beachy' look. Please don't! Soaking your hair with acidic lemons and then baking it in the scorching sun is going to do some serious damage. The acid opens up the cuticle and allows for even more rapid hair degradation from UV rays. Yes, lemons are 'natural', but so are the rabies virus and poison oak… this may seem a bit dramatic, but we have truly seem some dry and brittle hair horrors as a result!