The Most Environmentally Friendly Shower Filter Available!
 AED 400.00(free delivery with in Dubai)
Tested and Certified by the Water Quality Association according to NSF/ANSI 177 for the Reduction of Free Chlorine.
The New Century, a non-cartridge shower filter removes toxic chlorine from your shower with the best in style & technology. The result is better skin conditions, more manageable hair and reduction of itches and rashes. It is the most environmentally correct filter because it uses less plastic and lasts longer. It has been tested and certified by the Water Quality Association and meets NSF/ANSI Standard #177 for performance (30,000 gallons). It removes 90+% of chlorine in your water, and should last a family of four about 18 months, depending on the condition of your water.
Healthier, Younger Looking Skin
Softer, More Manageable Hair
Reduces Fading of Color-treated Hair
Relief From Dry Skin and Scalp
Improved Lathering and Foaming
Great for Those With Chlorine Sensitivity
9.5 cu inch sediment prefilter extends the life of the KDF filter
18 oz of KDF-55, Largest Shower Filter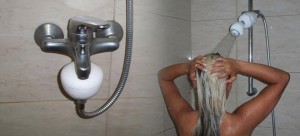 Eco Friendly
Converts Chlorine into a harmless soluble chloride through a KDF filament.
Crystalline quartz for energy enhanced shower "feel" and better lathering.
Installs in minutes – no special tools or professional help required.
Highly effective even at high operating temperatures and flow rates.